Hong Kong police have successfully defused a "severely damaged" World War Two bomb found on a construction site in a busy commercial area.
More than 4,000 people were forced to evacuate and streets were cordoned off as experts worked overnight to disarm the 450kg (992lbs) wartime explosive.
It is the second to be found in Hong Kong within a week.
The explosive – an AN-M65 – was made by the United States and dropped on Japan-occupied Hong Kong during WW2.
It is not uncommon for unexploded armaments from the conflict to be found in the territory.
The area – a British colony at the time – was occupied by Japanese forces between 1941 and 1945, and was the site of fierce fighting between the occupiers and British and Allied forces.
An identical model was defused on Saturday in the same area.
'Dirty, difficult and dangerous'
The bomb discovered on Wednesday was found embedded in the ground of a construction site in the busy district of Wan Chai.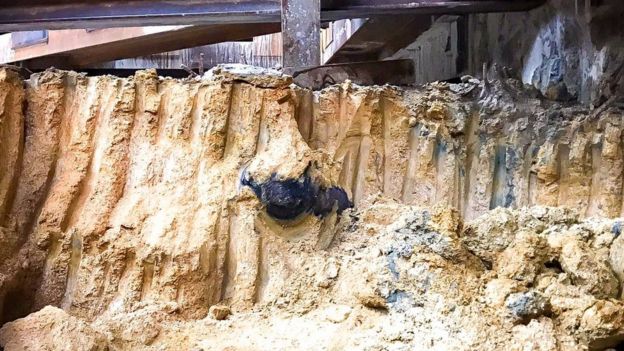 Police sealed off parts of the district and suspended ferry services across Victoria Harbour as the operation took place.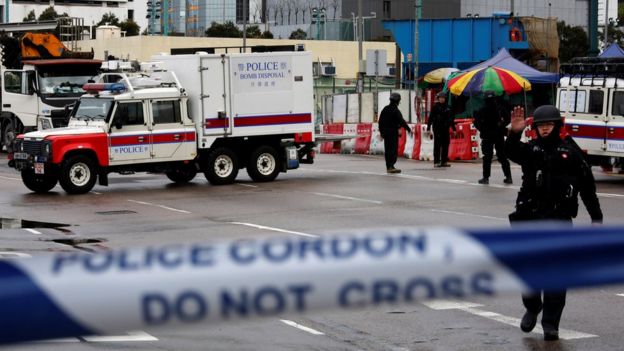 The bomb's fuse mechanism was found to be "severely damaged" and the position of the bomb made it hard for equipment to reach it, bomb disposal officer Alick McWhirter told the South China Morning Post.
The site was wet with rainwater.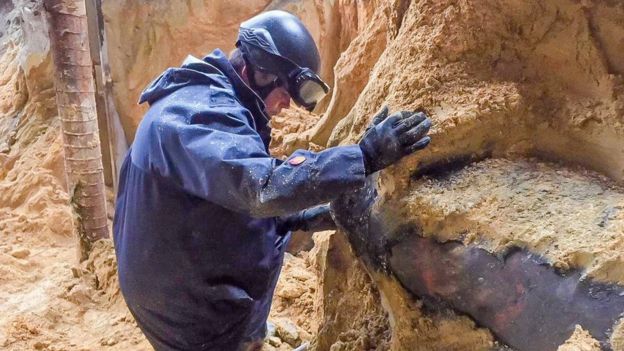 At about 08:00 local time (00:00 GMT) on Thursday, Explosive Ordnance Disposal officers cut a large hole through the bomb's shell to burn off the explosive material inside.
After the gunpowder in the bomb burned up, it was lifted off the site by crane.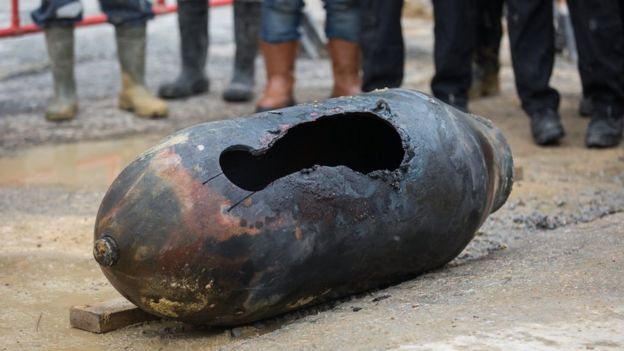 "Bomb disposal operations are dirty, difficult and dangerous. In this particular case, all three were true," Mr McWhirter told the SCMP.
"It was extremely dangerous for the officers engaged in the disposal operation."
The entire operation lasted about 24 hours.
All buildings in the area were eventually allowed to reopen by 11:00 local time, and roadblocks were lifted by noon.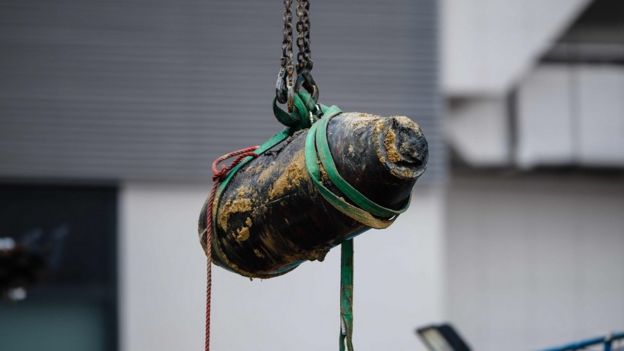 Hong Kong historian Jason Wordie told AFP the site where the bombs were found this week used to be a harbour, before land reclamation pushed the waterline farther away.
"Hong Kong's main value during the Japanese occupation was its ship repairing facilities, so putting those out of action was harming the Japanese war effort," he said.
He said there were likely "stacks more" bombs from the Allied forces waiting to be found.
Bombs and unexploded grenades have been found in Hong Kong before.
The heaviest bomb to be found in the city was a 907kg (2,000lbs) wartime explosive that was defused in 2014.