Terrorism, which is thought to have been one of the biggest threats confronting national security in 2016, will continue to threaten the country next year along with the distribution of fake news through social media, which the National Police said had the potential to create grassroots conflict.
National Police chief Gen. Tito Karnavian said in his outlook on the country's security situation in 2017 on Wednesday that the force would make combating terrorism and clamping down on individuals responsible for fake news and hoaxes a priority.
As part of efforts to deal with terrorism, the police, Tito said, would continue with Operation Tinambola in the restive region of Poso in Central Sulawesi to hunt down members of the terrorist group the East Indonesia Mujahidin (MIT). The MIT was founded by Santoso, one of the country's most infamous terrorists.
Santoso was shot dead in July this year after police ramped up their offensive operations in the area.
Tito also said the police would monitor people flying to and coming back from Syria to prevent the dissemination of the radical ideology espoused by the Islamic State (IS) group. In doing so, Indonesia expects to work with countries such as Singapore, Malaysia and Turkey.
"Our priority is [to monitor] those returning to Indonesia. Once they are found [to have joined IS] we will name them suspects," Tito said.
Around 600 Indonesians are thought to have traveled to Syria to engage in jihad. Some have remained in the country while others have made their way home or have lost their lives in the war.
With regard to hoaxes, half-truths and fake news, which mainly circulate on the internet, Tito said they could grow into a severe security threat in 2017 and that the police were working to improve their capacity in dealing with threats coming from online sources.
The statement came as government officials scrambled to counter rumors that millions of Chinese workers have arrived in the country.
President Joko "Jokowi" Widodo has insisted that the rumors claiming that more than 10 million Chinese nationals had been permitted to work in Indonesia were baseless and that in reality there were only 21,000 Chinese nationals legally working here.
National Police spokesman Insp. Gen. Boy Rafli Amar said rumors about millions of Chinese workers staying in the country had been spread to damage the government's reputation.
"The people will say 'oh the government has been doing this and that' while in fact it is not true," he said.
Separately, Indonesian Military (TNI) commander Gen. Gatot Nurmantyo said the rumors and hoaxes were planned and orchestrated by "external parties" that wanted to create unrest, which could eventually tear the nation apart.
"It is aimed at provoking and dividing our people," he said.
Tito said to deal effectively with hoaxes and fake news would require concerted effort from numerous government agencies. He said the government was now devising a mechanism to deal with the threat.
"Tomorrow, the President will hold a meeting on how to integrate all ministries and agencies to crack down on provocations on social media," Tito said.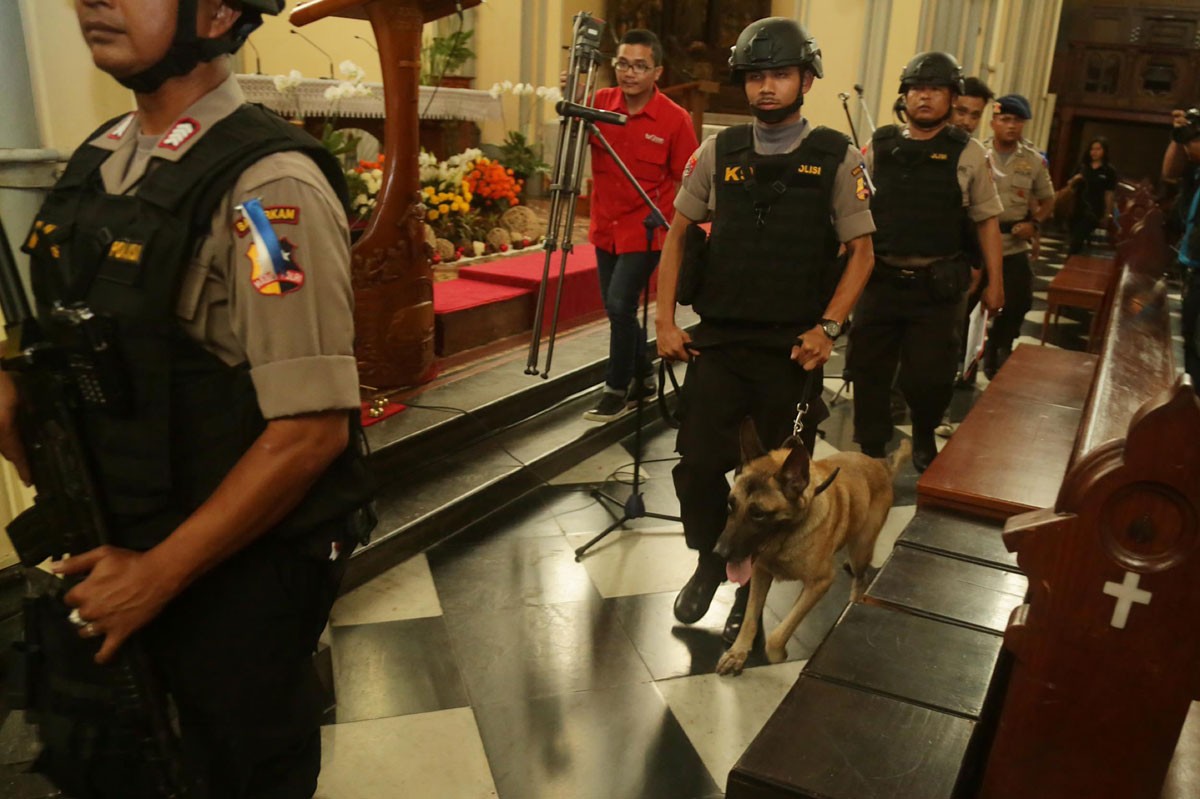 Tito himself has taken the issue of fake news seriously, especially after a legislator claimed that the police had decided to ramp up their counterterrorism campaign to create a diversion from the blasphemy case implicating Jakarta Governor Basuki "Ahok" Tjahaja Purnama.
Tito, who once served as chief of the Densus 88 antiterror squad, said he would resign from his post if any evidence could be found that the police had orchestrated the antiterrorism campaign as a diversion from the politically-charged case involving Ahok.
The use of the internet to spread radical ideology will also become a concern of the police. Indonesian militants such as Bahrun Naim, a tech-savvy jihadist who is waging war in Syria, has allegedly used the internet to recruit new militants. It is thought that Bahrun has created a number of cells across the country through online chat groups.
In the past 12 days following the foiled plot to attack the State Palace on Dec. 10, Densus 88 has uncovered at least 13 terrorist cells in West Java, Central Java, Banten, North Sumatra, West Sumatra and Batam, arresting a total of 21 people and shooting dead five suspects, who were allegedly planning attacks during Christmas and New Year's Eve this year.
Tito said such raids were only possible because the police had stepped up their cybersurveillance efforts.