The National Police's Densus 88 counterterrorism unit's recent raid and arrest of three people at a state university has opened a new chapter in the country's fight against terror.
While radicalism has reportedly been growing in higher education institutions in the last few years, the alleged terrorism on campus is new. The police were said over the weekend to have found explosive materials hidden at the Gelanggang Mahasiswa student facility of the social and political sciences department (FISIP) at Riau University in Pekanbaru.
What's next for Indonesia's counterterrorism measures? Should it send intelligence officers to universities, known as a place of academic freedom in democratic Indonesia?
Here is what we know so far on the Riau University case:
The suspect
A police statement made available on Sunday named the suspect as Muhammad Nur Zamzam or Zamzam, also known as Zega.
The statement said the police had been targeted Zamzam for some time and when they arrested him on campus on June 2, Zamzam was with two other people, Rio Bima Wijaya and Orandi Saputra, alias Kalek, who were also detained for questioning.
As of noon on Monday, the police were yet to declare either Rio or Orandi as suspects.
Zamzam was formerly enrolled in Riau University's Tourism department in 2003 (not 2005 as previously reported), and had already graduated. He was a member of the university's extracurricular organization Mapala, the mountaineering club. Most universities in Indonesia have such a club with life membership, so many alumni can still access campus facilities.
According to the police statement, Zamzam was connected with Jamah Ansharut Daulah (JAD), a local pro-Islamic State (IS) group led by Aman Abdurrahman, who is standing trial for allegedly masterminding the Jl. Thamrin bombing in Central Jakarta in January 2016. The police also said Zamzam knew the people behind the recent May 16attack on the Riau Police station.
Zamzam's university friend, Syahrul Mubarak, who referred to Zamzam as Zega, said he knew Zamzam from enrolling at the university in the same year and because both were members of the mountaineering club. Syahrul said Zamzam had not been a devout Muslim until a year ago, and described him as "preman mau insaf", loosely translated as a "repentant delinquent".
Syahrul said Zamzam began to change when he read about Palestine's fight for their own country and about the IS on the internet.
"All of a sudden, he started bragging that he wanted to do jihad, talking about bombs and going to Syria. We, the friends who usually hung out with him, of course laughed at him," Syahrul told The Jakarta Post on Monday. "Don't get us wrong, he is not a devout figure. He does not even pray five times a day. If there were people drinking together, he joined [them]," he said.
Syahrul added that Zamzam worked as a contractor and sometimes got projects on campus, which was why he often stayed at a homestay belonging to the mountaineering club, even though his parents lived in Pekanbaru.
Syahrul said Zamzam often told him "tall tales" about suicide bombings and terrorist networks, but that he did not believe the stories. However, since the arrest, Syahrul said all of Zamzam's tales were probably true.
The evidence
Along with Zamzam's arrest, Densus 88 personnel confiscated several weapons and explosive materials consisting of six kinds of gunpowder, an air rifle, two bows with eight arrows and several hand grenades. The police also found an IS video and a book titled Perjalanan Rahasia (The Secret Journey).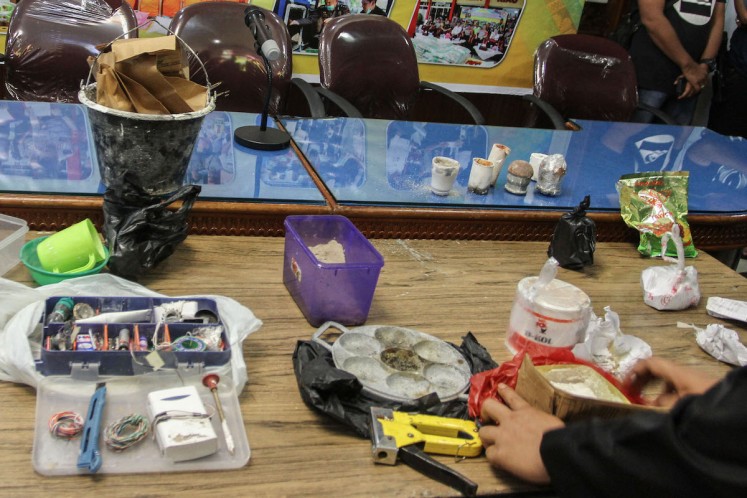 "The book contains tutorials on making bombs, weapons and land mines. It also contains techniques on survival, security and alert," the police statement read.
During the raid, Riau Police chief Insp. Gen. Nandang said that four high-explosive bombs had been defused, and that the bombs were reportedly similar in explosive power to the ones used last month in the terror attacks in Surabaya, East Java.
"The bombs were allegedly constructed by Zamzam. He allegedly also used social media to teach others [to make bombs] and to campaign for suicide bombings," said Nandang.
The police said Zamzam and the two other arrested alumni had been staying at the Gelanggang Mahasiswa FISIP building for a month.
"We had been watching them for around two weeks. They allegedly planned to blow up the Riau Legislative Council [in Pekanbaru] and the House of Representatives building in Jakarta," Nandang said.
Syahrul said the police discovered the evidence in an empty room on the second floor of the Gelanggang Mahasiswa FISIP. "There are many rooms in that building. We don't know when and how he built the bomb," he said. He also had no idea how Zamzam could store such materials without anyone else noticing. "Every day, many people flock the building because several organizations are headquartered there. But it could get a bit deserted at night, although there would usually be some students spending the night in other rooms there," he said.
The raid
National Police spokesman Brig. Gen. Mohammad Iqbal stressed that the raid had been carried out according to the police's standard operating procedure.
"There were explosive materials at the scene within the campus. We deemed them to be dangerous, hence the measure [to remove them] was taken when there was no academic activity on the campus," he said as quoted over the weekend by tribunnews.com.
Iqbal went on to deny that the raid was part of the police's attempt to repress university activities, noting that, "We'd do the same thing if the crime occurred in, for example, a house of worship."
Riau University rector Aras Mulyadi condemned the alumni's on-campus activities.
"They weren't even allowed to be living there [at the Gelanggang Mahasiswa FISIP]. They're not students, university staff or lecturers," said Aras.
Aras said he would immediately summon university management and the leaders of student organizations and ask them to work together to prevent such incidents from happening again.
"This should be the first and the last attempt at plotting terror that occurs on our campus. We'll declare our condemnation of terrorism on Monday," he added.
Campus radicals 'not the same' as terror cells
University of Indonesia terrorism expert Ridwan Habib said on Sunday that students and other members of academia exposed to extremist teachings were not necessarily part of a radical group or would potentially become involved in terror acts.
However, he said Saturday's arrests in Pekanbaru showed that members of terror groups were approaching and recruiting students or academics at educational institutions.
"These [extremist] groups often use a personal approach in recruiting those with prior links to other Islamic groups that have values similar to those they offer," said Ridwan.
Zamzam's friend Syahrul said, however, that as far as he knew, Zamzam had not been recruited on campus, but through social media. He believed the other two, Orandi and Rio, were unlikely to be involved in terrorism and radical activities. (evi)