A bus has caught fire in north-western Kazakhstan, killing 52 people, the interior ministry has said.
Five people managed to get out and were treated by rescue workers on the spot, reports said.
The accident happened at 10:30 local time on Thursday (04:30 GMT) in the Irgiz district of Aktobe region.
The bus is thought to have been carrying Uzbek citizens to or from Russia along the Samara-Shymkent route, said local media.
The route, which is about 2,200km (1,300 miles) long, is frequently used by Uzbek migrant labourers travelling to construction sites in Russia, observers say.
The emergency services ministry told AFP news agency that 55 passengers and two drivers had been aboard the bus.
"Five passengers received medical assistance. The remainder were killed," it said in a statement.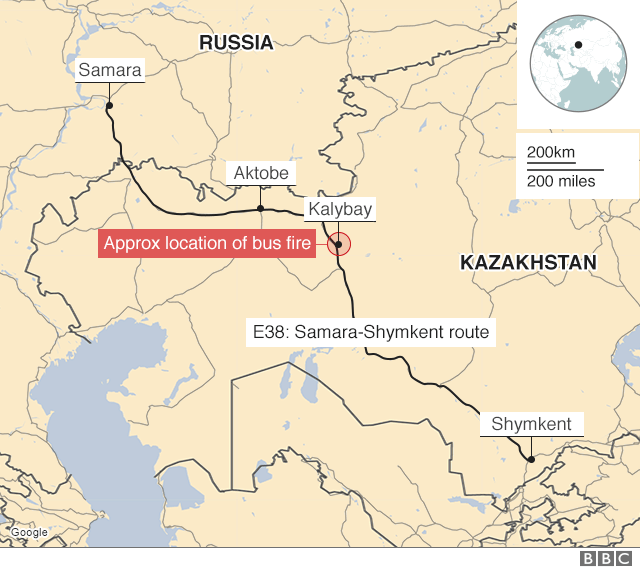 One of the drivers said the passengers were Uzbek nationals and the vehicle was registered in Kazakhstan, ministry official Ruslan Imankulov told AFP.
He said the blaze spread very quickly through the Setra bus.
It is unclear what caused the blaze.
Emergency officials have opened a telephone hotline for worried relatives.
A local journalist, Askar Aktileu, posted a picture of the burned-out wreckage on his Instagram page.