Jakarta   —   The President Joko "Jokowi" Widodo's coalition has started to formulate its campaign platform ahead of the 2019 presidential election. "It is being formulated by an expert team with help from coalition parties," said PDI Perjuangan secretary general Hasto Kristiyanto at Bogor Palace, Bogor, West Java on Tuesday, July 31, 2018.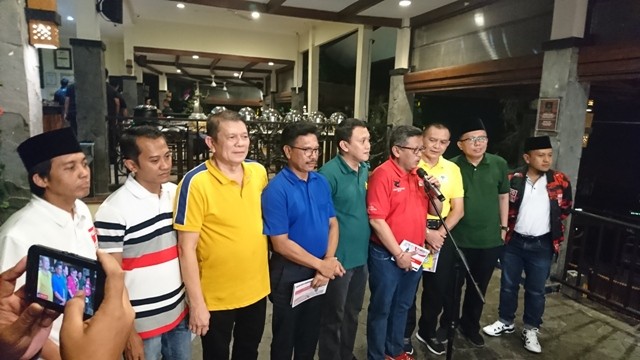 Nine Secretary Generals of Jokowi Coalition Parties  (Photo: MedCom//Yogi)
Nine secretary generals of coalition parties gathered at the Bogor Palace this evening. They discussed recent political developments at the meeting. "We want to ensure the victory of Pak Jokowi," the PDI Perjuangan politician added.
Indonesia will hold a simultaneous legislative and presidential elections in April 2019. The General Elections Commission (KPU) will announce the official legislative and presidential candidates later this year. Nawa Cita is the title of Jokowi's campaign platform in the previous election. It is a sanskrit term for nine goals.