Notice
: Undefined offset: 1 in
/home/jfeo9ho1w3bc/public_html/citizendaily.news/wp-content/themes/jnews/class/ContentTag.php
on line
86
Notice
: Undefined offset: 1 in
/home/jfeo9ho1w3bc/public_html/citizendaily.news/wp-content/themes/jnews/class/ContentTag.php
on line
86
Notice
: Undefined offset: 1 in
/home/jfeo9ho1w3bc/public_html/citizendaily.news/wp-content/themes/jnews/class/ContentTag.php
on line
86
Notice
: Undefined offset: 1 in
/home/jfeo9ho1w3bc/public_html/citizendaily.news/wp-content/themes/jnews/class/ContentTag.php
on line
86
Notice
: Undefined offset: 1 in
/home/jfeo9ho1w3bc/public_html/citizendaily.news/wp-content/themes/jnews/class/ContentTag.php
on line
86
Notice
: Undefined offset: 1 in
/home/jfeo9ho1w3bc/public_html/citizendaily.news/wp-content/themes/jnews/class/ContentTag.php
on line
86
Jakarta's air pollution is worse than Bangkok, but not the worst in Southeast Asia, data from the World Health Organization (WHO) has revealed.
Jakarta and Bangkok are notorious for their traffic jams. Fuel emissions from slow-moving motorized vehicles contribute to air pollution.
The WHO's latest report contains a database of the latest measurements of pollutant particles PM10 and PM2.5 in more than 4,300 cities and towns in 108 countries. PM10, coarse particle matters, and PM2.5, fine particle matters, are pollutant particles measuring less than 10 and 2.5 microns in diameter, respectively, which can penetrate respiratory tracts and in the long-term cause health problems.
The WHO encourages cities to have an annual mean value of less than 20 μg/m3 (for PM10) and 10 μg/m3 (for PM2.5).
Measurements in 2016 found that Jakarta's annual mean value of PM10 stood at 82 ug/m3 and PM2.5 at 45. The air in Bangkok, measured in 2015, has a value of 41 ug/m3 PM10 and 28 ug/m3 PM2.5, almost half that of Jakarta.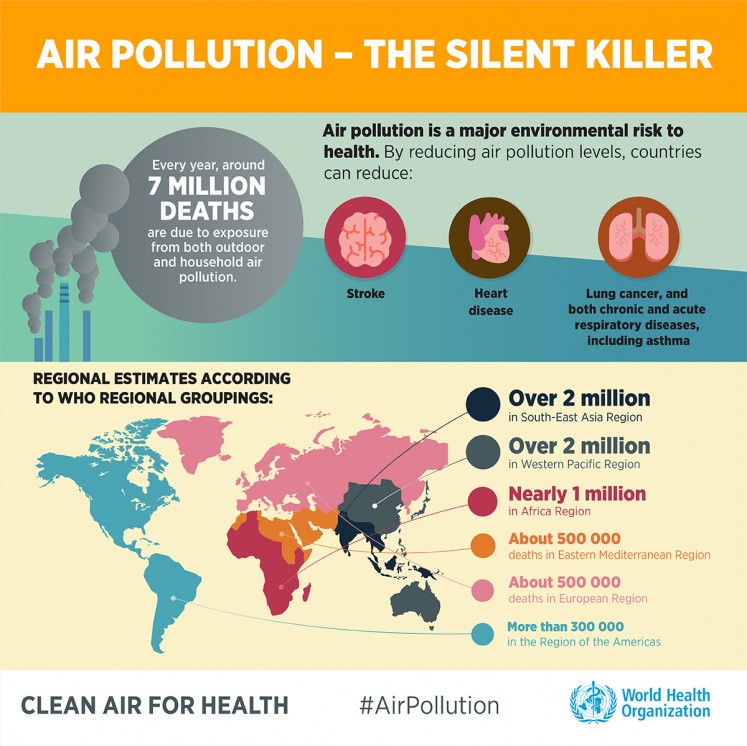 Jakarta is not the worst in Southeast Asia, especially compared to rising megacity Manila and Ho Chi Minh City. In 2016, Manila had 118 ug/m3 PM10 and 29 ug/m3 PM2.5, while Ho Chi Minh City had 90 ug/m3 PM10 and 42 ug/m3 PM2.5.
As a comparison, Beijing, notorious for its air pollution, was measured in 2016 to have 92 ug/m3 PM10 and 73 ug/m3 PM2.5.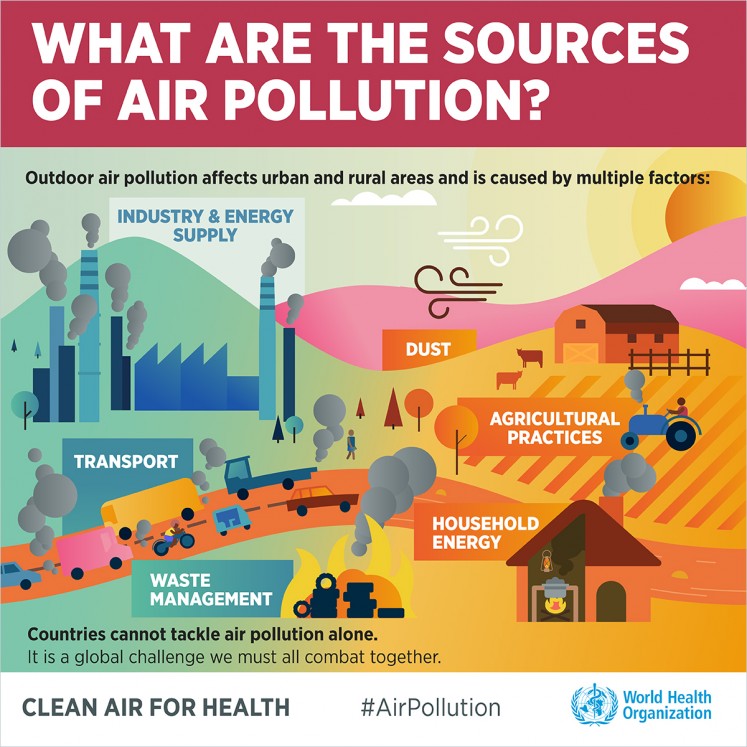 The WHO states that 91 percent of the world's population lives in places where air quality falls below its guideline. Outdoor air pollution causes 4.2 million deaths annually.
Air pollution can be caused by natural or human activities, although the WHO mentions that "contributions from human activities far exceed natural sources". These human activities include fuel combustion, coal-fired power plants, industrial activities, waste incineration, to residential cooking or lighting with polluting fuels. Poor urban planning is cited as a major accelerating factor. (evi)