Hundreds of men, women and children gathered near the Sendhang Gedhe natural pool in Pucung village, Banyumanik district, Semarang, Central Java, on Friday morning, bringing food such as rice, tofu, tempeh, fried eggs, rempeyek (peanut crackers) and salted fish in baskets.
The gathering was more than just a local feast, as the villagers gathered to pray for their ancestors ahead of the fasting month of Ramadhan in a tradition called Nyadran.
Following prayers, the villagers sat under large trees on mats and feasted, using banana leaves as a substitute for plates.
"We welcome Ramadhan by cleansing our soul through prayers and we also pray for our ancestors to God. We also physically clean our environment, including the Sendhang Gedhe pool. So we welcome fasting month with a clean body and soul," local neighborhood chief Sugito Mulyono said on Friday.
This year, Ramadhan is scheduled to start on May 27.
Pudak Payung subdistrict chief Ganefo Anwar said both Muslims and non-Muslims were involved in the Nyadran tradition, which he said symbolized peace and harmony.
"This has been a tradition of all people. A tradition that upholds togetherness and mutual cooperation," he said.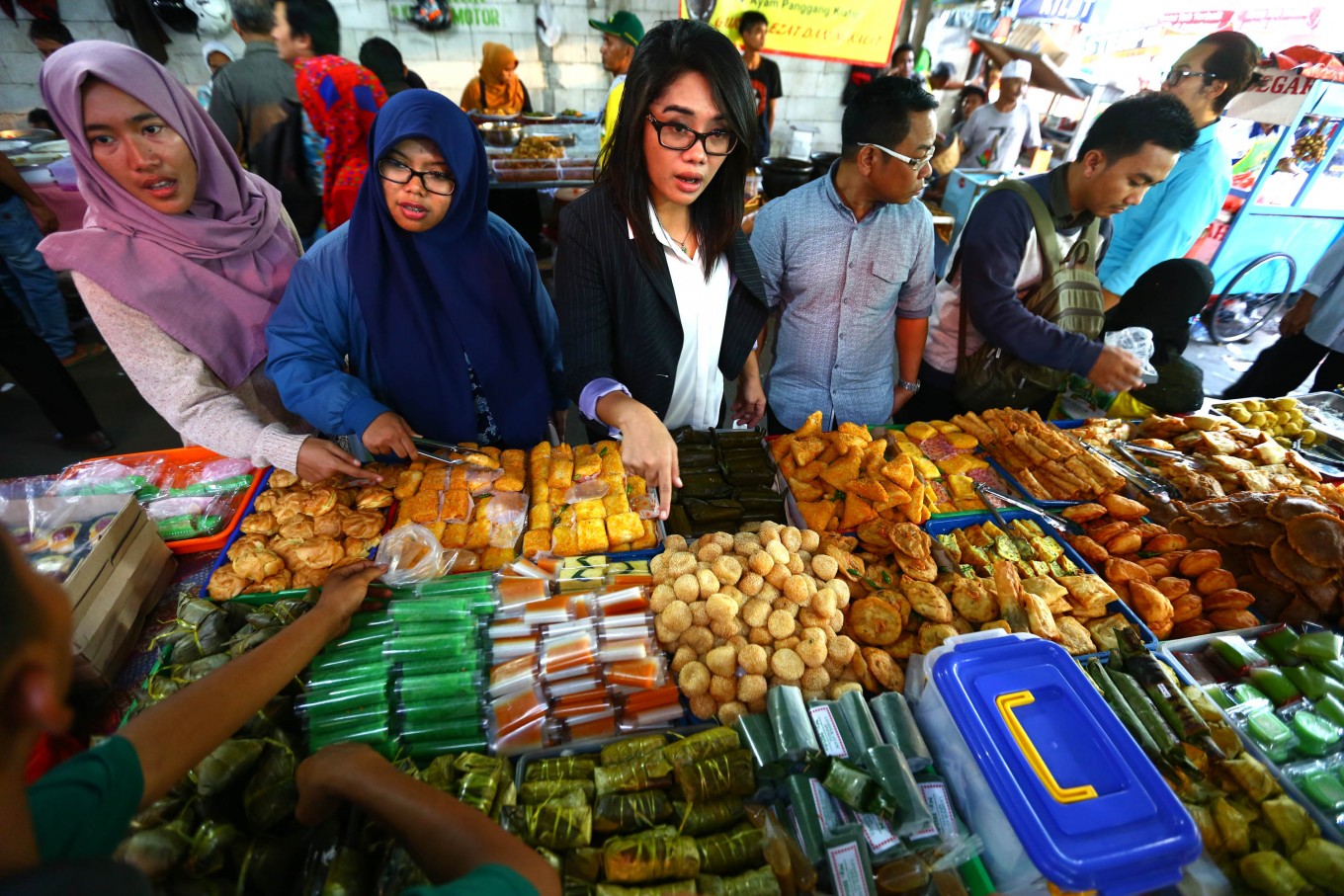 People purchase sweets to break the fast at a Ramadhan food festival in Bendungan Hilir, Central Jakarta, on June 8, 2016. (The Jakarta Post/Wienda Parwitasari)
Before the gathering began, dozens of men plunged into the Sendhang Gedhe pool before cleaning it, while other men and women grilled as many as 95 chickens for the feast.
Nyadran, a tradition for Javanese Muslims in Central Java that combines culture with religion ahead of Ramadhan, involves visiting the graves of relatives. By doing so, the tradition aims to remind people to improve their lives.
Tedi Kholiludin, a researcher at the Religion and Peace Study Center at Wahid Hasyim University in Semarang, said the tradition was rooted in teachings by Walisongo — nine saints of Islam who spread the religion across the island of Java. The approach was based on fiqih (Islamic law) and Sufism, he said.
"The transformation of Islamic teachings [was made] so that it [the approach] could be accepted. Religion and culture need not be in conflict," he said.
Similar gatherings also took place in Banyumas regency in Central Java where around 500 residents of Karanggude Kulo village, Karanglewas district, on Thursday morning visited the tomb of Sultan Nur Rohidin, an ancestor who lived in the village hundreds of years ago.
After visiting the tomb, they sat together in a yard next to Baitul'ilmi Al Barokah Mosque where they feasted. They made offerings in the form of meals on clay plates.
The tomb's gatekeeper, Yaskinu, 90, said it was unclear as to how Sultan Nur Rohidin first arrived in the village. However, many believe he came from the Sumenep kingdom in Madura Island.
Yaskinu said that Nyadran was a time to honor ancestors.
"Besides that we also hope for God's blessings as well as to continue the fighting spirit of our ancestors," he said.