The Education and Culture Ministry's official Instagram account was flooded with student complaints after the four-day national examination for high school students.
Many of the students complained that the questions on the exams were too difficult for them.
"Even the number one student in my class said the questions were too difficult. I, just a tiny speck of dust in the air, felt like I wanted to die," a student wrote in a comment, as reported by tribunnews.com.
Other students, meanwhile, have complained about the exams with jest on Twitter.
"UNBK = Patient-Based National Exam," one Twitter user said, referring to the acronym of the computer-based exam.
UNBK(ujian nasional berbasis kesabaran)

— Anisa fitri (@AnnisaFitri_H) April 11, 2018
"(Mathematics). 1% doing the exam. 99% looking at another student's answer, discussion, counting buttons, rolling dice made of an eraser, reciting Quran verses," wrote another Twitter user, jokingly.
(Matematika)

1% Ngerjakeun.

99% niron, diskusi, ngitung kancing, ngalotre ku panghapus, maca susuratan juz 30 ;(((#UNBK2018 #matematika#JangarDay

— Yana Sorodot gaplok (@YanaZu99) April 10, 2018
Responding to this, Education and Culture Minister Muhadjir Effendy said, for this year's examination, the questions were formulated according to an internationally approved education reform concept, namely the High Order Thinking Skills (HOTS).
"We applied HOTS to propel the students into thinking critically," he told the press in the vice presidential palace on Friday, as reported by kompas.com.
Assessment tests formulated using HOTS, among others, lead the students to analyze, evaluate and create solutions to problems instead of just memorizing theories like in the Indonesian conservative education concept.
"This is important for the students' character building," Muhadjir said.
Students said they were blindsided by the ministry.
"I understand that formulating the questions according to the HOTS concept is a terrific idea to let us practice critical thinking for problem solving. Unfortunately, you did not notify us about [this policy] earlier so that we could prepare," said a student using the handle @lindalindyy.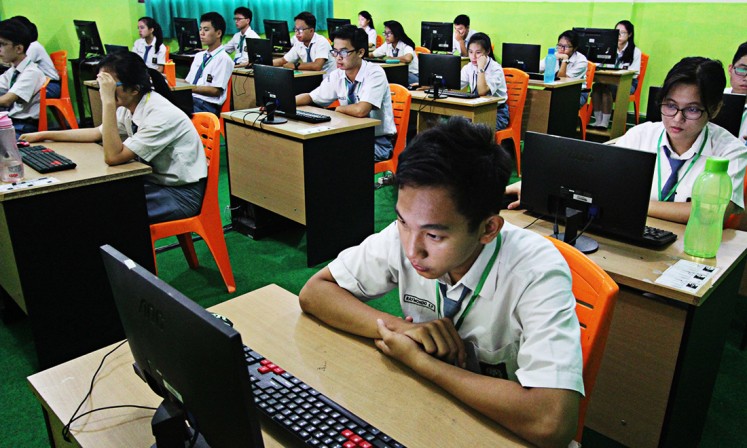 Most students complained that the math exams, especially the one for social science majors, were not in accordance with the trial exams the students had been doing the past few months to prepare for the national exams, according to the Federation of Indonesian Teachers Associations (FSGI).
The questions also were not ordered by difficulty, from easy to hard.
The propositions of the questions were also different from what they had prepared for. Students had prepared to face two trigonometry problems, but there were six such problems on the real exam.
The FSGI recommended against the ministry making a standardized exam for the whole country, because the students' abilities vary across the archipelago.
"Not only students in rural areas protested, but also Jakarta students," Satriawan Salim, an FSGI official, said in a statement on Saturday.