The funeral of French priest Father Jacques Hamel, who was murdered in his church by two Islamist extremists, takes place later on Tuesday.
A public ceremony will take place at Rouen cathedral, in Normandy, before he is interred in a private burial.
Father Hamel had his throat cut when two men stormed his church during morning mass.
The attackers – Abdel Malik Petitjean and Adel Kermiche – had both pledged allegiance to so-called Islamic State.
The pair, both aged 19, were shot dead by police after taking hostages.
A cousin of Petitjean has been arrested on suspicion of knowing he was planning the attack. Another man has been put under formal investigation for allegedly attempting to travel to Syria with Petitjean.
The attack on Father Hamel, who was 85, at a place of worship stunned France. It came shortly after the Bastille Day attack in Nice which left 84 people dead.
As part of its fight against radicalisation, the French government has announced the closure of 20 mosques.
It is also planning a new foundation to provide alternative funding for Islamic places of worship, amid concerns about the influence of Saudi Arabia's ultra-conservative Wahhabi version of Islam.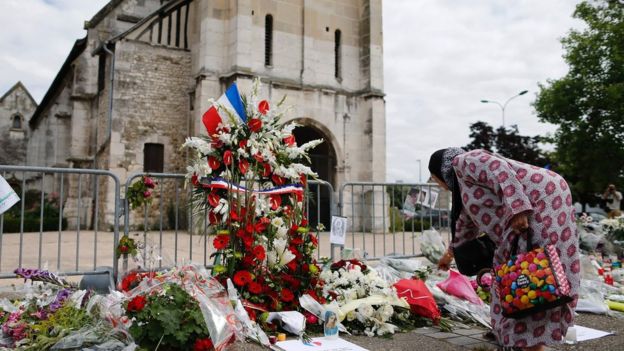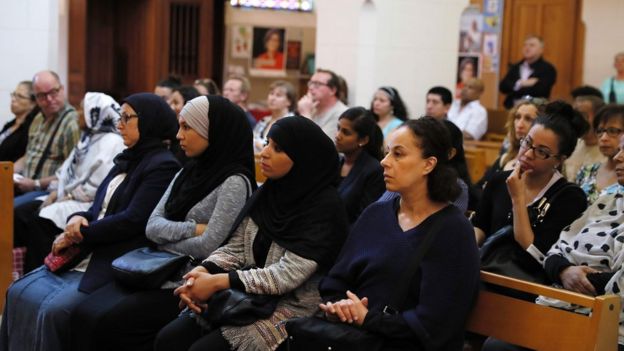 A group of prominent Muslims backed the plan, writing in the Journal du Dimanche (JDD) (in French) that "we must speak up now because Islam has become a public issue and the current situation is intolerable".
"A Foundation for Islam in France was set up more than 10 years ago and now it is time to reactivate it," they said.
"It has never worked properly… but now it should be empowered to collect donations."
On Sunday, Muslims across France attended Catholic Mass in a gesture of solidarity after Father Hamel's murder.