It was supposed to be a vacation for Helen Dewi Kirana, founder and designer of the NES by HDK fashion brand, and her friends when they visited the Baduy tribe in Banten. However, they were surprised to see a pile of garbage that was carelessly thrown away by other travelers.
"I found out that the Baduy tribe does not have a cleaning agency, so no one takes away all the trash," Helen said during the press conference of "Melangkah dari Baduy Menuju Indonesia bersih" (Moving from Baduy for a Clean Indonesia) on Saturday at the Mitra Hadiprana building in Kemang, South Jakarta.
Helen continued that even if there were volunteers, it still took six hours to climb to the village and bring the garbage down. "And the garbage will just be left down below, sometimes it goes rotten […] sometimes it sounds simple; we throw away the garbage, thinking that someone will be there to collect it. It's not that simple."
From that realization, Helen aims to hold series of events, starting from the "Pendar Baduy Binar Indonesia" (Baduy's Glow is Indonesia's Twinkle) music concert on Jan. 28 and an activity to clean up Baduy alongside nature-loving students from the University of Indonesia, alumni of Bandung Institute of Technology (IA ITB) in West Java, locals from Baduy and NES Lovers on March 14. Both events are also part of NES' third anniversary celebration.
Moreover, on the same day of the concert, Helen is scheduled to release NES' new motif "Pohon Kehidupan" (Tree of Life), which means people living under the tree together harmoniously alongside nature.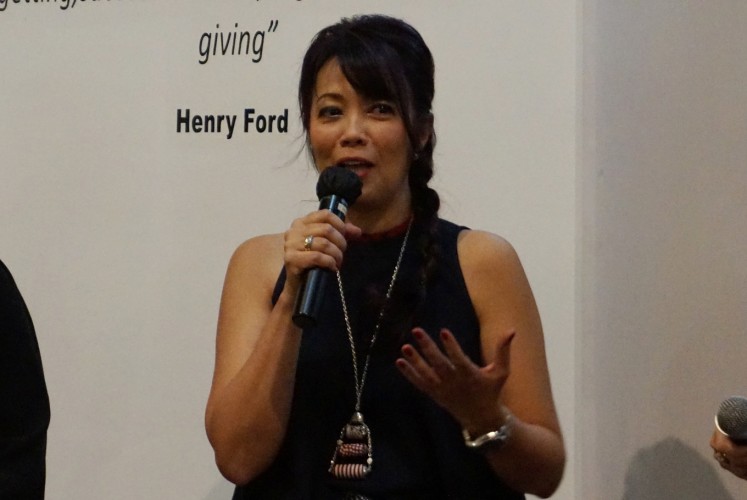 Bubi Sutomo, the music director of "Pendar Baduy Binar Indonesia", said the concert would adopt the hearts and minds of the Baduy people.
"But it will be packed with music that we often listen to and our language," Bubi explained. "For instance, Baduy people are simple – they don't wear shoes and their clothes are white [inner Baduy] or black [outer Baduy]. We will adopt these but by using ideas, lyrics and music that we often hear."
Helen added that the concert would be full of music and some local celebrities would also be there, among them Nugie, Ira Wibowo and Mario "Kahitna".
"By cleaning up Baduy, it doesn't mean we're helping them," Helen said. "We're the ones who must be responsible for the garbage because Baduy people – they never throw away their trash irresponsibly."
Ridwan Djamaluddin, the head of IA ITB, said the alumni would help NES in terms of trash management techniques. "Current trends can transform our garbage into other people's treasure," Ridwan said, adding that trash could be managed depending on its purposes, among these being energy generation and as a component of asphalt production.
However, no matter how useful the trash management is, the most important fact is changing people's mindset regarding tossing away trash.
Helen suggested people start small, such as by reducing the use of straws when ordering a beverage in a restaurant and bringing a water bottle along, including when you are traveling.
L. Amri, an ecotourism enthusiast who also attended the press conference, plans to collaborate with the head of the Baduy tribe to build a post for travelers to list items that they bring along with them, such as plastic bottles, instant noodles and tissues. "After that, when they finish their visit and return to the post, the amount of the items must be the same as when they first came," Amri stated.