China's parliament has endorsed Xi Jinping for a second term and appointed Wang Qishan as his vice-president.
The ballot at the National People's Congress unanimously approved Mr Xi while Mr Wang received 2,969 votes in favour and only one against.
Wang Qishan was previously in charge of corruption investigations in China.
He is a longstanding ally of President Xi and his elevation is being seen as a further consolidation of the Chinese leader's power.
The recent abolition of term limits for the Chinese presidency extends to the vice-presidency, giving the position greater significance than before.
China's constitution allows the vice-president to "assist" in his superior's work and to carry out presidential duties on his behalf – meaning Wang Qishan, possibly in his role for life, could be far more than the figurehead his predecessors were.
Who is Wang Qishan?
Mr Wang, 69, has held a number of prominent positions since starting work for the Chinese Communist Party in the 1980s as a policy researcher.
He became mayor of Beijing during the Sars outbreak there in 2003, and was executive chair of the city's Olympic committee ahead of the 2008 games.
In 2007, he joined China's Politburo and in 2009 became then-president Hu Jintao's chief negotiator in trade talks with the US.
Former US treasury secretary Henry Paulson described him at the time as "decisive and inquisitive", and possessing a "wicked sense of humour".
However, Mr Wang is best known for his most recent post – leading China's anti-corruption investigation.
The campaign, controlled by Mr Wang as head of the Central Commission for Discipline Inspection, was launched in 2012 under the then newly appointed party leader, Xi Jinping.
During President Xi's first five years in office, 1.34 million officials at high and low levels – people Mr Xi disparaged as "tigers and flies" – were brought down by corruption and disciplinary charges.
Mr Wang, reportedly a friend of Mr Xi's from their youth, led the charge – becoming a feared enforcer for the Xi administration.
What does his promotion mean?
The end of term limits and the choice of such a prominent party member as Mr Wang could mean a change in what the role represents, analysts say.
Mr Wang's experience negotiating with the US on economics is significant, given US President Donald Trump's plans for tariffs.
Hua Po, an independent Chinese political commentator, told AFP news agency his appointment may be to allow Mr Wang and Mr Xi to combat President Trump, adding: "Maybe they'll be able to come up with a solution for this massive brewing storm with America about imbalances and tariffs."
And his closeness to President Xi could mean he will make the position his own.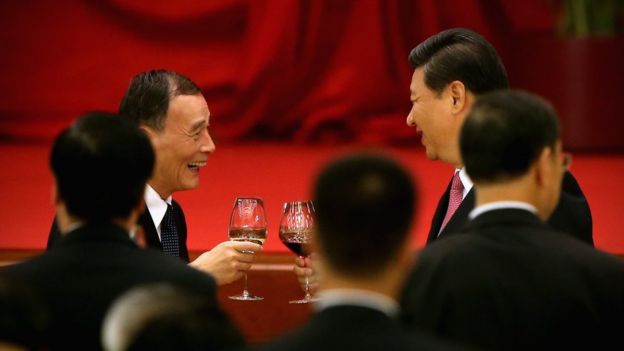 Speaking to the New York Times, researcher Wu Qiang who was formerly at the Tsinghua University in Beijing, said Mr Wang is "one of the most important figures" in President Xi's administration.
"Wang Qishan will add substance to the role of vice-president," he said.
"The amendment of the constitution has raised the status of the presidency, and the vice-presidency will also benefit from that."