Standing next to at a massive pile of white rocks where his daughter's house once stood, Jamil Mohammad Ahmed stared in disbelief.
"My daughter and her husband are under there," he said. "And their little girl."
"My son-in-law's mother and father are under there. My family," he added.
After losing five family members in an airstrike, Jamil Mohammad Ahmed returns to Old Mosul to try to bury his dead, June 25, 2017.
​Airstrikes and mortars crashed down only a few blocks away on Islamic State's last stronghold in Mosul, but Ahmed didn't seem to notice. IS is now surrounded in a few square kilometers, but they have as many as 100,000 people trapped inside with them.
Rescuing the people is the Iraqi military's primary goal in the coming days. It's already too late to save most of the ancient city's treasures, like the famed al-Nuri mosque bombed by IS last week.
"It's not as important as the blood we have lost," said Ali al-Assady, an Iraqi Special Forces soldier. "What is most important to us is safety for civilians."
Lieutenant General Abdul Ghani al-Assadi says Islamic State militants in Mosul will be defeated in the coming days, June 24, 2017.
In the ruins of the Old City, Ahmed doused his head in water and the smell of rotting corpses wafted out of a church across a narrow street.
Soldiers pried open a broken metal door and the stench was overwhelming. IS militants must have used the church as some kind of base, with a food schedule posted and their logo spray painted on the wall. Bodies of militants lay crushed among the rubble.
Bodies of IS militants litter the streets and buildings in the areas of Old Mosul recently captured, while the bodies of families are buried in the rubble, June 25, 2017.
​"We don't notice the smell anymore," said Kareem, a soldier with the Iraqi Army. Inside his make shift base, a former factory, at least four IS corpses are rotting. Soldiers covered the bodies in debris to mask the smell, but they are in no rush to bury the bodies of their enemies.
"I'm in shock," said Ahmed, leaning on a stone wall. "Can you imagine this happening to you?"
Bitter victory approaches
Over a nearly 10 meter high pile of crushed cars blocking the next road what's left of the al-Nuri Mosque's minaret can be seen through a sniper's peephole.
Before it was bombed, the mosque was the symbolic heart of IS, where Abu Bakar al-Baghdadi declared his "caliphate" in 2014.
​Militant snipers fire on the Iraqi point overlooking the mosque and grenades launched with machine guns lob overhead and into Iraqi-controlled territory.
"The militants are stuck now. They have no way to escape from Old Mosul," explained Lieutenant General Abdul Ghani al-Assadi, commander of the Counter Terrorism Service, or Iraqi Special Forces known as "The Golden Division."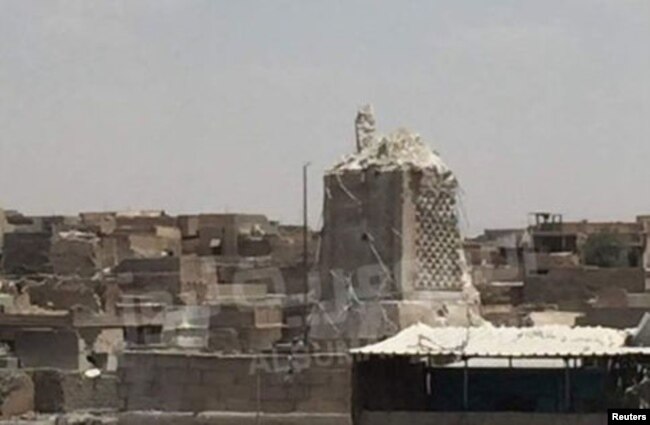 The destroyed Al-Hadba minaret at Grand al-Nuri Mosque is shown in Mosul, Iraq, June 22, 2017.
​Capturing the 900-year-old mosque was supposed to be a victory day after more than eight months of fighting for Mosul. Politicians promised an Iraqi flag waving from the mosque. Soldiers dreamed of the day they would march into the mosque in a long-awaited win.
Now the mosque, like the rest of the neighborhood is in ruins and the minaret juts into the sky like an amputee. Dozens of other ancient mosques, churches, statutes and other ancient treasures have also been destroyed in Mosul.
"Every single soldier that would have walked into the mosque would want to take a selfie and post it online," said Raith al-Shabib, an Iraqi Special Forces fighter. "They destroyed it to take away our celebration."
Live bodies
Surrounded with their numbers dwindling, militants are not just decimating Mosul's cultural heritage, but as many lives as possible.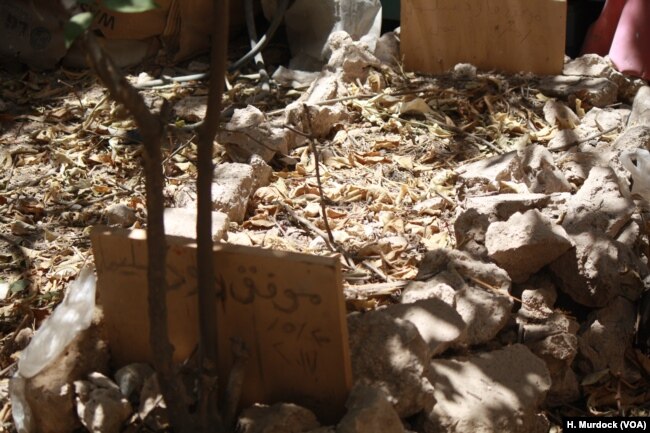 The body of a man buried in this Old Mosul garden after he was shot dead by IS for smoking, June 25, 2017.
"Since we are all going to die here, you will to," an IS militant told civilians in Old Mosul attempting to flee last week, according to Qassam, a former taxi driver and father of eight. On a hard mat in a sweltering refugee camp, Qassam and his family describe their desperate flight after an airstrike collapsed their house, killing his brother and his child.
"Anyone who runs," Qassam heard the militant say, "We will kill. Anyone who stays will die in an airstrike."
By some estimates there are only a few hundred militants still fighting, but military officials say the massive civilian population believed to be crowded in the homes prevents them from flattening the area.
Families flee Old Mosul as soon as Iraqi forces are close enough to protect them, June 25, 2017.
When Qassam's family fled Old Mosul along with thousands of other people late last week, even the children knew their flight would save their lives or kill them.
Naseen, Qassam's wife fell in the chaos as families ran from IS bullets. But Hassan, 12, and nine-year-old Abdullah kept running.
"We have to keep going," Hassan told his brother. "Everyone has to save themselves."