Indonesia's central bank left its benchmark interest rate unchanged as policy makers guard against currency volatility following a rout in global markets that put the rupiah under renewed pressure.
Governor Agus Martowardojo and his board held the seven-day reverse repurchase rate at 4.25 percent on Thursday, as forecast by 24 economists surveyed by Bloomberg.
While Southeast Asia's biggest economy is expected to improve marginally in 2018, supported by an aggressive run of easing over the past two years, the central bank has shifted its focus to currency risks. Bank Indonesia confirmed last week that it stepped in to stabilize the rupiah after the currency fell to its lowest since June 2016.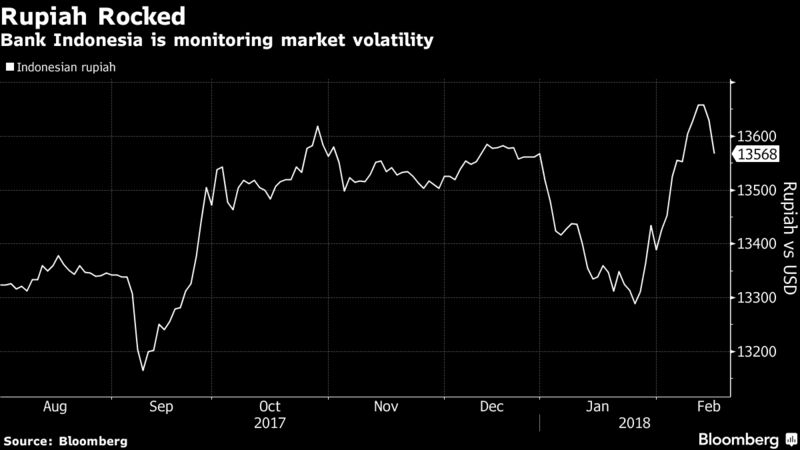 Martowardojo said the current policy stance was in line with efforts to ensure economic stability. Annual inflation is expected to remain within the central bank's target range for 2018 of 2.5 percent to 4.5 percent. The consumer price index eased to 3.25 percent in January, its slowest pace of increase in more than a year.
"Bank Indonesia sees that the easing of monetary policy has been sufficient to continue to boost momentum in the domestic economy's recovery," it said in a statement. "Going forward, Bank Indonesia believes that sustaining the stability of the economy will be the main foundation for the creation of stronger and sustainable economic growth."
No Surprise
Bank Indonesia's decision to hold rate was not a surprise considering the tightening cycle underway in the U.S. and recent volatility in markets, said Josua Pardede, an economist at PT Bank Permata in Jakarta. The central bank may ease macro-prudential rules further to boost loan transmission while keeping the benchmark rate unchanged this year, he said.
"While we know that other central banks such as in Malaysia have already raised rates, the Indonesian central bank will remain neutral with its monetary policy," Pardede said.
Doddy Zulverdi, executive director for monetary management at Bank Indonesia, said last week that Indonesia's economic fundamentals are supportive of a stable exchange rate, adding that the central bank expects the rupiah to appreciate again once the impact of the market correction has eased.
Indonesian policy makers are also bracing for further potential currency volatility as the U.S. Federal Reserve raises rates along with other central banks. The Fed is set to hike three times in 2018, or possibly more, following three increases last year.
The central bank will continue to guard the currency in line with the fundamentals as it monitors risks in global markets, Martowardojo said.